Introducing Nuvonic
Formerly Hanovia, Aquionics, Berson and Orca, they launch Nuvonic.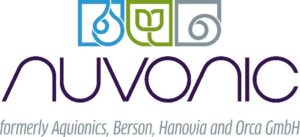 Nuvonic aims to be bold and original, embracing their strengths built on a century of innovation, while embodying their purpose, 'protecting people and processes from harmful contamination'.
Their mission is to Innovate UV technology for a heathier, more sustainable world. They accomplish this by combining four great companies into one, becoming the first global organization to offer complete facility UV disinfection of water, surface, and air.
As the manufacturer of their own lamps and systems, they have the unique position of deep technical knowledge combined with comprehensive sector application understanding, ensuring every element of their solutions is optimized to overcome the challenges their customers face.
As the market continues to mature and regulation becomes more stringent, Nuvonic will serve their customers by providing sustainable equipment, optimized through unrivaled understanding of their customers' application. This will be underpinned by their unwavering focus on delivering solutions their customers can trust, seeking to make UV disinfection the essence of a safer, healthier, and more sustainable world.
Why?
Whilst they have been operating as one business for some time, bringing our entities together under one brand will simplify their positioning in the market, make them easier to do business with, and simplify how they operate. Overall, they will deliver an improved customer experience more efficiently.
Products & Innovation
While their existing product portfolio remains unchanged, this year they are releasing more products than ever before, increasing energy efficiency, taking them into new markets, and supporting their global customer base with remote connectivity. Nuvonic aims to build on the expertise of their heritage, while accelerating to realize on the full potential of the growing UV market.
Four pioneering legacies. One united purpose. They are Nuvonic.
Contact us for more information and be sure to check out Nuvonic's new web site: https://www.nuvonicuv.com/